News Articles
The WorkPlace in the Media
CT Post: An Answer to The Labor Shortage, October 9th, 2022 Joseph Carbone Plato famously wrote: "our need will be the real creator" which molded over time into the English proverb 'Necessity is the mother of invention. As the post-COVID world of work evolves, remote...
read more
Avangrid Teaming Up With DFSMFC To Empower Local Women
Bridgeport, CT—April 11, 2022
Dress for Success Mid-Fairfield County is pleased to announce Avangrid as the Presenting Sponsor of Purse-suit of Success! to be held on May 10, 2022, in Bridgeport at the Boca Oyster Bar. Dress for Success empowers women to achieve economic independence by providing a network of support, professional attire, and the development tools to help women thrive in work and in life.
The Purse-suit of Success! benefit will celebrate the success stories and supporters of this vital community program. The COVID-19 pandemic has set gender equality back an additional 36 years. Dress for Success Mid-Fairfield County is on the frontlines of getting women back to work and financially stable in the wake of this economic crisis. Our programs and services are designed to help women overcome challenges for various phases of their personal and professional journeys.
Purse-suit of Success! will feature Karen Dubois-Walton, PhD, President, Elm City Communities, and recently appointed Chairperson of the State Board of Education receiving the Denise "Denny" Taft Davidoff Empowerment Award. This recognition is in honor of her commitment to equity, and ability to create opportunity for women.
All are invited to a fun spring event on the water featuring a silent auction including premier purses donated by local community leaders. The evening will celebrate Dress for Success Mid-Fairfield County's 24 years of service to local women in need of professional attire and employment services. The organization has helped more than 12,000 women since opening its doors in 1998. Dress for Success Mid-Fairfield County offers all services to clients at no-cost and relies on donations and fundraising events for support. All proceeds from the evening will benefit the Dress for Success Mid-Fairfield County's programs, including Simply Suited and the Professional Women's Group.
"UI, SCG and CNG – our Connecticut family at AVANGRID – are honored to continuously support the Dress for Success' mission to empower women to achieve economic independence." – Frank Reynolds, President & CEO of UI, SCG and CNG.
Purse-suit of Success! is made possible by the generous support of a number of local businesses including Connecticut Community Bank, Berkowitz and Hanna LLC, Synchrony, Microboard, and The Community Foundation for Greater New Haven. Tickets to the benefit are $85 per person and can be purchased online at https://bit.ly/dfspursesuit22 or by calling at (203) 610-8480.
About Dress for Success. Dress for Success Mid-Fairfield County is an affiliate of Dress for Success Worldwide. All funds are raised locally and make impact in southwest Connecticut. Visit midfairfieldcounty@dressforsuccess.org for more information.
Virtual Forum On Employment Resources On Monday, March 28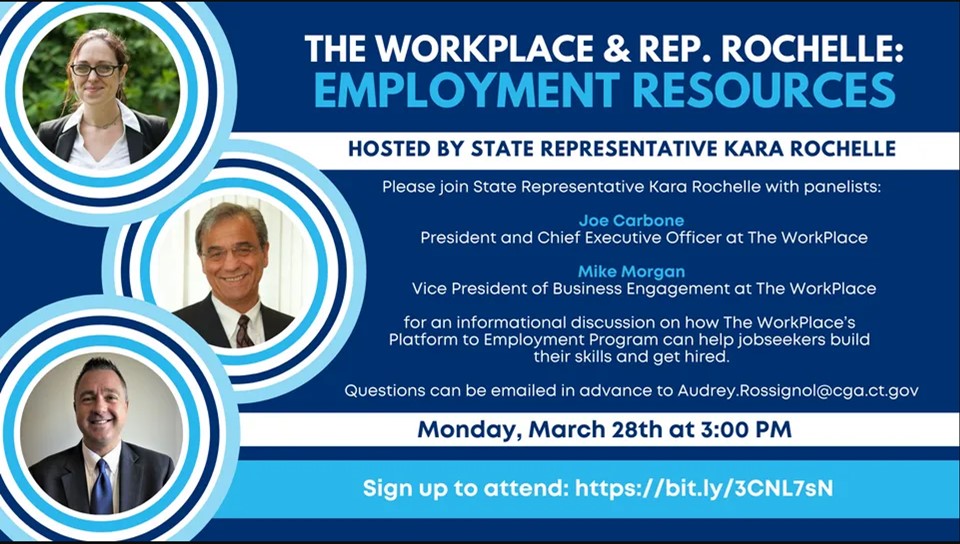 State Representative Kara Rochelle (D — Ansonia, Derby) is partnering with The WorkPlace President and CEO, Joe Carbone, and Vice President of Business Engagement, Mike Morgan, for a Virtual Forum on Employment Resources on Monday, March 28, 2022 at 3 p.m. via Zoom. People can register for the virtual event by visiting https://bit.ly/3CNL7sN.
During the event, attendees will learn about the WorkPlace's innovative Platform to Employment https://platformtoemployment.com program, which helps unemployed individuals build their skills and connects them to employment opportunities. The program has helped over 80 percent https://www.workplace.org/p2e of participants secure employment.
​"The WorkPlace offers a variety of programs to help people advance their skills and overcome barriers to securing a good-paying job," Rep. Rochelle said. ​"I am pleased to host this virtual discussion with Joe Carbone and Mike Morgan to highlight the Platform to Employment program and how it can help people who are experiencing long-term unemployment get back to work."
The program helps prepare long-term unemployed individuals for career opportunities by addressing the skill loss and social and emotional challenges resulting from being out of the workforce.
The Platform to Employment program matches participants with openings at local companies on a trial basis and The WorkPlace funds their salaries. During this period, participating workers can demonstrate their ability to perform the job while the employer evaluates their work.
The Platform to Employment program is offered in Bridgeport, Hartford, New Haven, Norwich, and Waterbury.
The WorkPlace serves Southwestern Connecticut and offers a variety of job training and employment support programs for young adults, older workers, veterans, and more.
Residents are encouraged to email their questions in advance of the event to Audrey.Rossignol@cga.ct.gov. For immediate assistance, residents can call Rep. Rochelle's office at 860−240−8585 or email her at Kara.Rochelle@cga.ct.gov
https://valley.newhavenindependent.org/article/virtual_forum_on_employment_resources_on_monday_march_28
The Alliance for Cannabis Equity release Manifesto, a resource for Black and Brown Entrepreneurs, Social Equity Applicants, and Minority Workers in the Cannabis Industry
FOR IMMEDIATE RELEASE February 24. 2022
Bridgeport, CT [February 24, 2022] – The Alliance for Cannabis Equity, created to be an authoritative and trusted resource for those interested in assuring that the social equity provisions related to adult-use cannabis are fully realized, formed by Community Outreach Revitalization Program (ConnCORP) and The WorkPlace, hosted a press conference on Thursday to announce the release of its Cannabis Manifesto.
"ACE is focusing on social equity and the economic opportunities for Black and Brown entrepreneurs and minority workers in the emerging cannabis industry," said Joseph Carbone, President and CEO, The WorkPlace. "Our publication of The Cannabis Manifesto for Social Equity is an important step in supporting social equity initiatives across the state and helping people realize what is possible."
The Manifesto focuses on providing BIPOC entrepreneurs and workers a trusted document and website that can be used to answer questions about the new recreational cannabis industry in Connecticut. It provides an overview of key entry processes – covering cannabis business requirements, the lottery process, and addresses general business questions that may aid Social Equity Applicants in the creation of and future management of their businesses.
"Provisions of the new cannabis law aim to insure that Black and Brown communities that have been adversely impacted by disparate marijuana law enforcement policies not be left behind; but also reap the benefits expected to accrue from this new industry," said Carlton Highsmith, Board Chair, ConnCORP. "But there is a knowledge gap that needs to be bridged. Linkages to resources need to be made. Sources of financial capital that need to be identified. There is an urgent necessity for reliable and trusted information. This Manifesto is designed to bridge the resource gap and link interested parties to reliable, trusted and authoritative information and resources."
Along with the Manifesto, which was created by BJM Solutions, ACE will also provide continued support to maintain the accompanying website as the industry evolves, with continued partnership with other organizations who are also committed to the realization of the legislation's goal of promoting economic and social justice in the cannabis industry.
"The legalization of adult-use recreational cannabis in Connecticut presents a once in a lifetime opportunity for entrepreneurs. The Social Equity Council and the legislation are attempting to ensure the opportunity to prosper for marginalized groups that have been disproportionately harmed by the War on Drugs," said Fred McKinney, Ph.D., Founder BJM Solutions. "This Manifesto provides the first vital step towards that goal. We understand in order to make these opportunities a reality for Black and Brown entrepreneurs, ACE and others will need to work tirelessly, otherwise, we will not meet the objectives of equity and inclusion in the wealth generation that will occur."
The Alliance was created to focus on social equity and the economic opportunities for Black and Brown entrepreneurs and minority workers in the field of cannabis across the state of Connecticut. The emphasis on social equity will create significant economic opportunities for Black and Brown entrepreneurs and minority workers within the state.
About ConnCORP  ConnCORP seeks to drive economic development in the Dixwell and Newhallville sections of New Haven by investing in local commercial and residential real estate. The objective is to deliver well-planned multi-use real estate investment, which can help stabilize the local economy, provide affordable goods and services, and create local jobs. Learn more at Conncorp.org.
About The WorkPlace  The WorkPlace conducts comprehensive planning and coordinates regional workforce development policy and programs to prepare people for careers while strengthening the workforce for employers. As a national leader in the field, The WorkPlace regularly shares ideas and best practices with lawmakers, foundations, think tanks and other workforce development organizations around the country.