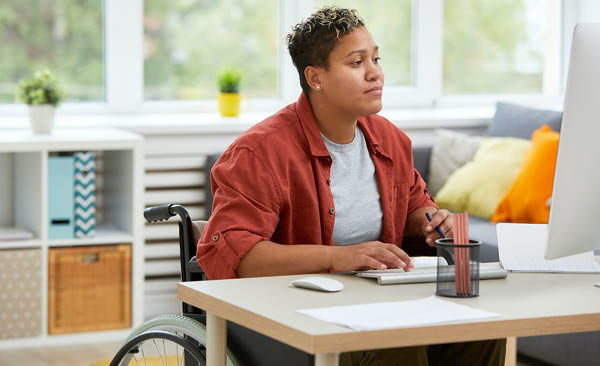 Redefining how and where you work. 
RemoteWorks teaches women of color and people with disabilities workforce readiness and the skills to be ready to work in a remote environment.
Are you unemployed? Have children at home? Still concerned about commuting and working outside of your home during the pandemic? Working remotely may be the solution for you.
Remote work, also known as "work from anywhere," is a flexible way of working which allows employees to work from any remote location as long as they have stable internet connectivity. Remote work allows you to create a comfortable working situation by enabling you to establish a workspace that serves you and your lifestyle.
RemoteWorks provides training and paid to work experiences to help individuals who want to work remotely. The program certifies participants have the technology-related skills, the ability to work independently in a remote work environment, and the customer service or sales training required for telework positions. Trainees receive access to mentoring, career coaching and exploration, workforce readiness training, occupational training and certifications as well as supportive services at no-cost.
Training programs available include:
IT Support
Customer Service
Microsoft Services
Amazon Web Services
You will receive:
Sacred Heart University telework credential with a digital badge
IT Skills & Digital Literacy to ensure the technical skills required to telework
Workforce readiness training such as resume, interview, and job search assistance
Resiliency training includes self-care techniques and strategies addressing stress, anxiety, and depression
Returnships – paid work experience with employers
And more…
Contact us today! Receive training at no cost to you! Virtual classes will begin immediately. The program will last 6 to 8 weeks depending on the type of training you choose.