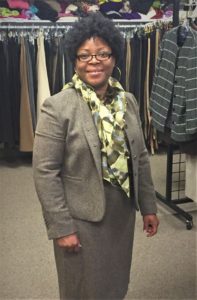 Dress for Success empowers women to achieve economic independence by providing a network of support, professional attire and the development tools to help women thrive in work and in life. Women obtain what they need for an interview — from clothing to confidence — and can return once they find employment for the apparel and accessories needed to enter the workforce.
Our purpose is to offer long-lasting solutions that enable women to break the cycle of poverty. Dress for Success is part of a global movement for change, empowering women to obtain safer and better futures.
We provide each client with professional attire to secure employment, but we are about much more than simply a new outfit. Besides providing the client with apparel and accessories, our Professional Women's Group (PWG) encourages employment retention and career development by providing a safe environment to network with other women and receive training from volunteer professionals. The PWG meets monthly and includes networking and career development workshops focusing on financial literacy, the written and unwritten rules of the workplace and achieving work life balance.
Providing hundreds of disadvantaged women with interview-appropriate apparel for interviews, internships, training and employment is just the first step in accessing the many support services provided to address a woman's social and economic needs in relation to work, home and the community. Women who are referred by our over 70 referral sources which includes human services, domestic violence & homeless shelters, job training programs, etc. Services are provided at no cost.
Get Involved. With your support, Dress for Success can continue to empower hundreds of women on their path to financial independence.
There are many ways that companies and individuals can engage with Dress for Success Mid-Fairfield County https://midfairfieldcounty.dressforsuccess.org/get-involved/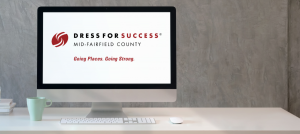 Upcoming Virtual Workshops – You're Invited!  https://conta.cc/3fgWb4b
Financial Literacy Bootcamp
No matter what stage of life you are in, understanding your finances is important. Join Dress for Success Mid-Fairfield County for Virtual Financial Literacy Bootcamp, a 7-part financial literacy series. Each workshop is designed to help you set financial goals, monitor your progress, and use financial knowledge and skills with confidence.
Sessions are open to women each Tuesday at 12pm starting August 4th. We encourage participants to attend each session. There is no cost to participants. Plus, there's a chance to win prizes + raffles! This program is made possible by support from Citizens Bank.
August 4th: Setting Financial Goals
August 11th: Budgeting
August 18th: Building Your Savings
August 25th: Debt Repayment
September 1st: Investing
September 6th: Creative Ways to Save (Side Hustles)
September 8th: Steps to Home Ownership
Virtual Workshop Frequently Asked Questions 
Who can participate in these workshops?   
These workshops are open to all women, and we especially encourage our clients, volunteers, and supporters to join!
Can you record and distribute these workshops for later viewing?  
We do not record any of the workshops. It is important to us that we respect the privacy of all attendees and foster a safe space for discussion. However, most of our facilitators allow us to share their presentation slides after the workshop.
Do I need to download Zoom to participate?
No, there is a option to dial-in to the workshop using your phone. However, downloading the Zoom software to your smartphone, tablet or computer will allow you to see the presenter and powerpoint slides.
Is there a cost for me to participate?
Workshops are offered at no cost. However, if you would like to show your support of Dress for Success Mid-Fairfield County and help bring other workshops to local women, you may make a donation of any amount 
here
.
For current news, visit https://midfairfieldcounty.dressforsuccess.org/news/ 
Contact Information
Call: (203) 416-8407
E-mail:  midfairfieldcounty@dressforsuccess.org
Visit: midfairfieldcounty.dressforsuccess.org